Day 15: Saturday 12th July
Today was travelling day from Orlando Airport to Atlanta, the capital city of the state of Georgia in the United States. The flight was really short only an hour and 15 minutes.
Once we got to Atlanta, Miss Hannaford spent lots of time helping me update the blog with all the pictures and videos from our week in Orlando.
Day 16: Sunday 13th July
Today I visited a really important place in Atlanta- the Center for Puppetry Arts! This is the world's largest museum and education centre dedicated to puppetry!
When you walk into the centre, the first thing you see is Pinnochio's feet coming through the ceiling!
The Center for Puppetry Arts building used to be a Primary school called Spring Street School and they are about to add a new building to the front of the property so the Center can put all my Muppet friends on display as the current museum is now too small for all the puppets in the collection!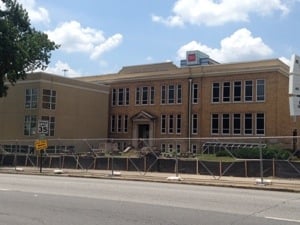 Miss Hannaford tells me that we are going on a special tour of the whole centre in 2 days time!
-Lucy