Tuesday 29th July
Today we got to see traditional British pomp and ceremony- the Changing of the Guard at Buckingham Palace. During summer, the changing of the guard happens everyday at 11:30am. All of the guards from one of the 5 regiments (Grenediers, Colstream, Scots, Irish or Welsh) guards all of the palaces around London for 24 hours. A guard will stand on duty for 2 hours then have 2 hours off so every guard stands on duty 12 times including at night. The weapons they are carrying are real and they are loaded. These guards are real professional soldiers not just a tourist attraction. Every tourist who comes to London goes to see the Changing of the Guard which meant we ended up a long way back from the Palace but the guards did march past us on their way to the palace.
http://youtu.be/mnJahDMMVs4
http://youtu.be/JPsTqfqfPIY
http://youtu.be/1-s26lBcu_M
After the changing of the guard ceremony, Miss Hannaford and I walked to Covent Garden. Covent Garden is where all the famous theaters in London start as Miss Hannaford needed to collect her tickets to see Phantom of the Opera.
Miss Hannaford originally saw Phantom of the Opera in 1991 in Melbourne then again in Sydney in 1996. It is one of her favourite musicals and she is currently building a 'phantom' puppet.
http://youtu.be/OljL1W5VtcI
Also in Covent Garden is a very old and famous shop called Benjamin Pollocks Toy Theatre. They sell lots of puppet theaters in this shop including reproductions of antique cardboard theatres so Miss Hannaford has bought a few to bring back home.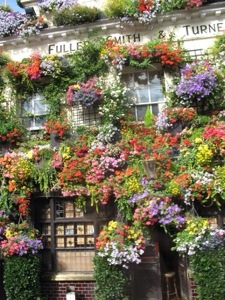 As we walked to the theatre, we saw the most amazing building- it is nearly completely covered in hanging baskets of flowers- very pretty!
Other locations we visited during the day included the Albert Memorial- a special statue dedicated to the memory of Prince Albert- husband of Queen Victoria and across the road is the Albert Hall- a very famous concert hall.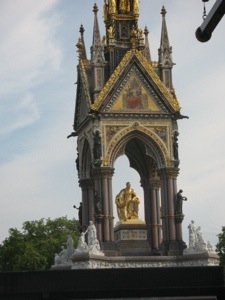 Here are some photos of the stage of phantom of the opera at the beginning of the musical and the end of the musical. Did you know that the chandelier actually falls to the stage during the show?
Miss Hannaford told me about her favourite memory of the show when she saw it in 1991. She went to see where the orchestra plays at the front of the stage and the conductor had written on his music the word DUCK at the point when the chandelier falls. If he didn't duck- the chandelier would hit him! Here is what it looks like in the show-
http://youtu.be/7r_tU1323sg
So what a very interesting day- let's see what adventures we go on tomorrow!
– Lucy