Day 35: Friday 1st August
Miss Hannaford has really been looking forward to today. Today we went on a walking tour of all the Harry Potter film locations in London!
The tour started at the ticket turnstiles at Westminster station. This is where Mr Weasley couldn't work out how the ticket barrier worked and Harry had to show him.
In the upcoming photos- I am going to show you the photo I took with a screen shot of the film so you know where we are.
Westminster Underground station- Order of the Phoenix
Entrance to the toilets to access the Ministry of Magic- Deathly Hallows Part 1- the toilet entrance is just an archway on the road.
Visitors entrance to the Ministry of Magic/ Place where Harry, Ron and Hermione hid the people they impersonated in the Ministry- Order of the Phoenix/ Deathly Hallows part 1
The red telephone box was actually a prop and the film makers changed the metal door you can see in my photo for a wooden one because it looks better and changed it back after filming was finished!
The next location we walked to was the River Thames where the flight of the Order of the Phoenix was filmed.
The next location we visited was the Millennium Bridge- the newest bridge over the River Thames. In the 6th film- Half Blood Prince, the Deatheaters cause the bridge to collapse!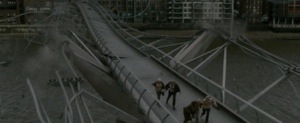 After the Millenium Bridge, we walked to Southwark Borough Market where the Knight Bus was filmed arriving at the Leaky Cauldron in Prisoner of Azkaban.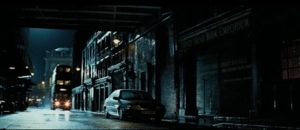 Our last few stops of the day was in London's Leadenhall Market. Here is where Harry and Hagrid are filmed talking about his list of school supplies as they are going into the Leaky Cauldron during Harry Potter and the Philosophers Stone.
It has been a wonderful walk around London following the steps of the Harry Potter film makers! It is also sad that it is our official last day in London but hopefully we will make short day visits in the coming few weeks!
– Lucy