Day 38: Monday 4th August
Today Miss Hannaford and I travelled from Stoke on Trent to Barlaston which is 90 minutes away by bus. Barlaston is where the Wedgwood factory and museum is located. Miss Hannaford collects a very special egyptian style Wedgwood that she is writing a book about so she needs to spend lots of time here at the factory and museum researching Wedgwood and hopefully talking to the people who made the Wedgwood she collects.
[map id="2″]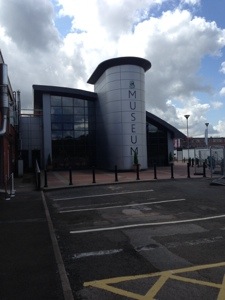 While she was at the factory part of the site, Miss Hannaford got to make her own special piece of Wedgwood. The staff give you a blank pot and show you how to put on raised decorations around the pot. The pot will then be fired in a kiln to make it as hard as stone. Miss Hannaford applied a special border around her pot and on each side a little raised picture of Peter Rabbit from her favourite children's book the Tale of Peter Rabbit by Beatrix Potter.
The rest of the time we were at the factory, Miss Hannaford and I went on the factory tour and we got to see how the real Wedgwood is made including the very expensive Wedgwood that is covered in lots of real gold!
http://youtu.be/R5cCm7j_2Ks
http://youtu.be/bYyhppVl_10
Day 39: Tuesday 5th August
Today we travelled into Stoke on Trent to the local historical museum. The museum is made up of 3 parts- A pottery museum, A local history museum and a museum for the Staffordshire Hoard- the largest discovery of Anglo- Saxon gold ever found!
http://youtu.be/CcriG8UIRVI
The dark ages in England is called the Dark Ages as there is very little written evidence to tell us how people lived. The hoard shows how people made beautiful objects and some of the objects have pictures on them. We know that England was broken up into little kingdoms each with their own chief or King and they lived in wooden buildings. The museum recreated one of the King's great halls to show visitors how people lived.
In another part of the museum, there is a display of all the local animals of Staffordshire, the county (not country) that Stoke on Trent is part of. The display reminded us of the exhibits we saw at the Natural History Museum in New York.
In the ceramics section of the museum, Miss Hannaford did find some wonderful examples of the Egyptian Style Wedgwood she is researching.
So it has been a really interesting few days!
– Lucy