Today Miss Hannaford and I went on a day trip back to London to visit the British Museum again. This time Miss Hannaford wanted to see the Egyptian and Ancient Greece sections of the museum. Miss Hannaford loves everything to do with Ancient Egypt!
The Egyptian Halls are always really busy with lots of people so Miss Hannaford decided to start by visiting the Ancient Greek starting with the Parthenon Marbles. The Parthenon is the famous Greek temple of Athena in Athens, Greece. Lord Elgin had the marble decorations on the Parthenon cut off by using hand tools and he took them out of Greece to the British Museum. Greece at the time had been invaded by the Turks and they gave Elgin permission to remove the marble sculpture but now the people of Greece want their sculptures back so the 'marbles' have become a serious argument for many decades between the British and Greek governments. The sculptures on display came from the ends of the roof of the Parthenon and from one side just below the roof line.
The room in which the marbles are kept is exactly the same size as the real Parthenon and the marbles are arranged as they would have appeared on the Parthenon but at eye level rather than at the top of the temple.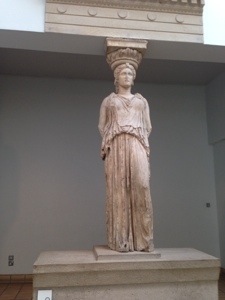 The next place Miss Hannaford visited was the Egyptian Hall where all the big stone sculptures are kept. Miss Hannaford's favourite sculpture was a huge stone scarab made of granite and a piece of the beard from the Great Sphinx of Giza!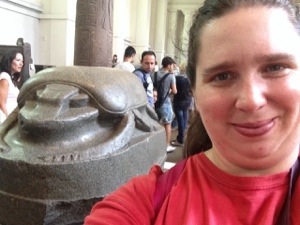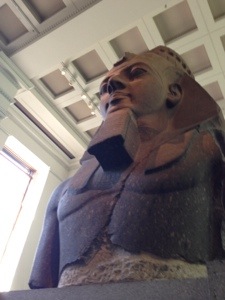 On the upper levels of the British Museum is where all the famous Mummy's are kept as well as their grave goods including the very famous papyrus of the book of the dead. This was the first 1000 piece jigsaw puzzle Miss Hannaford completed as a young girl. Miss Hannaford also wanted to see the famous wall painting "Hunting in the Marshes".
The last thing Miss Hannaford wanted to see was a bronze statue of a youth known at the museum by the nickname 'Charlie'. When he was first discovered, archaeologists thought he was a statue of a god but later they found out that he held a room lamp off his missing arm so the poor statue started out as being treated as a god then he got demoted to furniture!
The last poto of the day was this panorama of the Great Court of the British Museum. Miss Hannaford hopes to come back here one day on her next trip to England!
– Lucy