Day 45: Monday 11th August
Miss Hannaford had spotted on a local tourist map a different reference to Wedgwood so we used the local buses to get to the location. It turns out the building is a Factory Outlet which made Miss Hannaford really happy because she was able to buy a new piece of Egyptian style Wedgwood for her collection!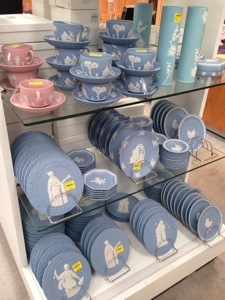 On the way to the outlet, we passed a really interesting site- a summer ski slope! You can actually go downhill skiing in the middle of summer in England! The slope has a special matting that simulates snow and you can ski all day and all year round!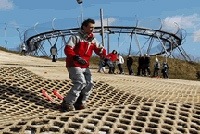 http://youtu.be/xmuvDM0atXs
Day 46: Tuesday 12th August
Today was Miss Hannaford's first full day inside the Wedgwood archive! She was allowed to touch the original documents- some of which are more than 250 years old so they had to be handled with extreme care. You are not allowed to bring pens into the room to write with- only pencils in case you accidentally put any marks on the paper. Miss Hannaford discovered the answer to some of her questions but she also uncovered a big mystery. Two of the special pieces in her collection could have been made in different colours but they have never been seen by anyone! Miss Hannaford asked for other documents to see if they were officially made or were just planned!
Miss Hannaford and I also got to meet a member of the Wedgwood staff who was working at Wedgwood when the Egyptian pieces were being made in the 1970's. He was able to answer some of Miss Hannaford's questions including telling Miss Hannaford about how some of her pieces were made.
At the end of the day, Miss Hannaford collected the pot she made last week as it has now been fired to make it as hard as stone. The firing changed the colour of the picture and border she had put on the vase to white. It was really wonderful to see how excited Miss Hannaford was about the discoveries she has made today.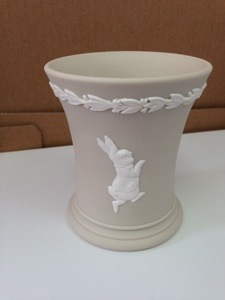 Day 47: Wednesday 13th August
Today was another research day in the Wedgwood Archive for Miss Hannaford. She was really excited to browse through the 1802 book of shapes- the book where all the Wedgwood shapes are drawn for the factory records. She saw the original drawings of many of the pieces of Wedgwood she owns and because the book is 212 years old again it was really important to turn the pages very carefully and to rest the book on a special cushion so the cover doesn't break off.
Here is an example of the 250 year old letters, Miss Hannaford has been reading. You can see how challenging it can be to read this very old style of writing.
We did take some photos of the very narrow country lanes the bus to and from Wedgwood has to take. Farmers use hedges around their fields in this part of England to protect their crops from high winds.
It has been wonderful helping Miss Hannaford with her research the last few days but she tells me that there is a special adventure to go tomorrow!
– Lucy