Day 67: Tuesday 2nd September
Today we visited the island of Murano to the north of Venice.
[map id="5″]
Our journey started by walking through the narrow streets and small squares to the north of the hotel to get to the Vaporetto stop opposite Murano Island. Walking through the streets and crossing all the small canals you realise that the canals are the main streets of Venice. You see delivery boats bringing goods and supplies to shops and restaurants or collecting household rubbish like a garbage truck does back home.
While we waited for the vaporetto, you could see the Italian Alps in the distance! They are really big mountains and we could not quite tell if we could see snow on the top or if it was sunlight!
On the way to Murano, the first stop of the Vaporetto was Cimitero San Michele which is the cemetery island of Venice. It is a very interesting place in that people are buried on the island for only 10 years, then their bones are removed to a special crypt called an ossuary on the mainland because there is no land available in Venice for permanent burials.
Murano has it's own grand canal and Miss Hannaford and I got off the Vaparetto at the Museo stop. Miss Hannaford wanted to find one of the glass blowing factories that demonstrate how glass ornaments and vases are made. We wandered around the island and we eventually found a factory that offered demonstrations.
First thing we saw was a vase being blown by a glass master artist

Next we saw the master create a Ferrari Horse in less than 1 minute from molten ball of glass in the furnance to finished horse!

While we were on Murano, we found a huge glass sculpture that is called a comet glass star. It was made for a christmas celebration on Murano and each of the blue glass tubes is hand blown and they are all more than 1 metre long.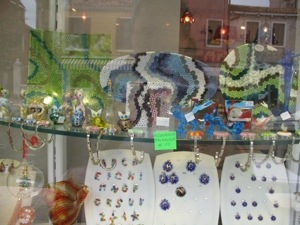 All of the shops have beautiful examples of glass art including jewellery, lampshades, small sculptures and very big sculptures. One of the last sculptures we saw was an enormous eagle all made from hand made glass on a really tall glass stand! The whole sculpture was more than 2 metres tall and the wing span of the eagle was more than 1.5m wide!
It was a really interesting visit to the island of Murano- can't wait to see what we do tomorrow!
– Lucy