Day 76: Thursday 11th September
Today, Miss Hannaford and I visited a very important centre of Puppetry- the Institut Internationale de la Marionette which in English is the International Institute of Puppetry. It is in this building that Miss Hannaford's Puppetry teacher Marie- Martine Ferrari learnt to make foam Muppets in 1987 from Jim Henson who actually invented Muppets and Kermit the Frog.
Since Miss Hannaford is a member of UNIMA- the international association of puppetry, she was allowed to access the huge Library of puppet videos and books and she found several videos that showed her puppet teacher rehearsing several performances as part of the workshop held by Jim Henson.
Here are some of the videos from that workshop that have Miss Hannaford's teacher hidden among the other performers

After spending a few hours watching all the videos in the puppetry archive, Miss Hannaford and I were given a special treat- the opportunity to have our photo taken in the same place as Miss Hannaford's teacher, Kermit the Frog and Jim Henson had their photo taken. It really meant a great deal to Miss Hannaford to have her photo taken there.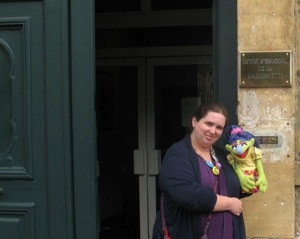 While we were at the Puppetry Insitute, we got to see the Great Puppeteer clock 'perform' twice. Once an hour, starting at 10am, the Great Puppeteer puts on a short marionette puppet show. Each hour is a different performance and during the hour, the head moves slightly to show the Great Puppeteer is watching what is happening in the square below. The story is based on a local Ardennes legend – The Four sons of Aymon – in a series of 12 scenes.
Here is a video Miss Hannaford made about the Great Puppeteer clock

Being the centre of puppetry in the whole world, Charleville Meziere even has lots of sculptures in the local park of different kinds of puppets. All of the sculptures are human sized or larger!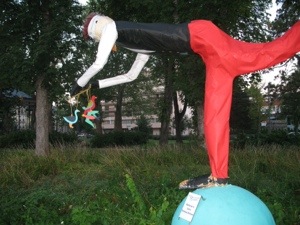 It has been a wonderful visit and tomorrow we head off to our next country!
– Lucy