Day 69: Thursday 4th September
Today Miss Hannaford and I explored more of the back streets of Venice starting from the Train Station near Ferrovia vapparetto stop through the back streets, across the Cannaregio Canal to the Cannaregio district. Miss Hannaford had heard that there was a local puppet maker in the area but after wandering around the streets using the directions we were given, we could not find the workshop but we had a very nice walk.
Day 70: Friday 5th September
Today was our last day in Venice. The first thing we did was to get ready to travel to Rome tomorrow by getting washing done and making sure we had all the right train tickets for the next few train trips. I wanted to go to the top of the Campanile (the orange bell tower and symbol of Venice) and Miss Hannaford wanted to find another puppet shop that she had heard was near Saint Mark's Square. Instead of catching the Vaporetto, MIss Hannaford and I walked through the back streets and bridges of Venice to St Mark's Square and we paid €8 to catch the elevator to the top of the Campanile. What an amazing view of all of Venice and the Lagoon! Venice is made up of 180 tiny islands which explains why there are so many bridges and canals but the strange thing is that from the top of the Campanile, you can't see any of the bridges or canals!
After we came down from the Campanile, we watched the big clock chime 5pm. It is hard to see in the video Miss Hannaford shot, but the figures on the top of the clock tower actually move to strike the bell.
Here is Miss Hannaford's video

Here is another video showing the figures moving more clearly.

Miss Hannaford did find the puppet shop but sadly it was closed but she took some nice pictures of the marionette puppets.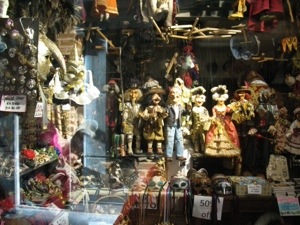 So tomorrow we are off to Rome on the high speed train and in the middle of next week we are traveling to Charleville Meziere in Northern France using the French high speed trains!
– Lucy