Day 15: Monday 13th June 2016
Today was our first full day in Los Angeles, California and the day Miss Hannaford and I spent at Universal Studios, Hollywood!
Universal Studios Hollywood is both a theme park but it is also a working film and tv studio. Miss Hannaford booked a VIP Experience for us to go on for the whole day so that we could go behind the scenes, walk on real tv and movie sets as well as enjoy the theme park. The VIP guests wait in a very comfy lounge above the entrance to Universal Studios until their guide joins them.
Then we walked through the park to a special bus that drove us into the movie studio.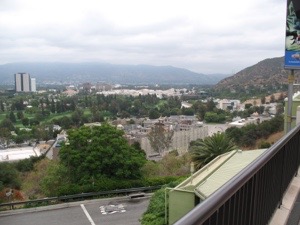 The first actual movie and to set we got to walk onto was New York/ Chicago Street. All the buildings are fake- some are completely flat but this street is used a lot in movies and tv shows especially when things like cars and buildings need to be set on fire or blown up!
Some of the buildings the bus drove into turned into special effects spaces where the bus was put on hydraulic platforms that shook and bumped the bus. We even got a little bit wet when we drove into a special effects room that had a subway set around us flood with water!

The next set we visited was the Bates Motel from the famous Alfred Hitchcock movie Psycho
Then the tour moved to one of the largest standing sets on the Universal Lot- the devastated suburban street from the Tom Cruise film War of the Worlds. There is a real, wrecked 747 plane! Everyone on the tour had the chance to get off the bus and walk through the set and we got to have our photo taken in front of the plane!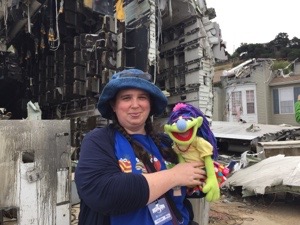 The last place we got to tour was the prop warehouse. This building is like a huge library where set dressers and production designers can borrow props and set dressing for tv shows and movies. Everything is barcoded just like library books!
After touring the sets and stages, the tour returned to the theme park where the tour went on several rides. Miss Hannaford doesn't like scary rides so the only ride we went on was Jurassic Park- that was scary enough with the big drop over the waterfall at the end!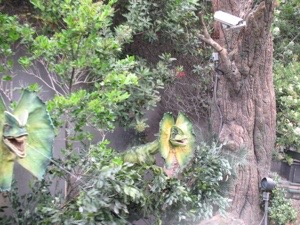 After a very yummy lunch in the VIP dining room, our next stop on the tour was to see the Waterworld Stunt Show attraction that uses many of the special effects that we had seen on the tour.

The last stop on the tour for Miss Hannaford was the village of Hogsmeade! This is when her new puppet, Professor McCluckagall made her official debut outside Hogwarts Castle and the Hogwarts Express train experience!
It was a very interesting day seeing how movies and to shows are made!
Lucy and Miss Hannaford