Wednesday 30th July
Today Miss Hannaford achieved one of her life goals- to visit the world famous British Museum! The British Museum has one of the worlds best collections of Ancient Egyptian objects outside of Egypt as well as objects from every ancient civilisations as well as a few items from indigenous Australia.
Among the objects we found inside the British Museum was another Moai head just like Dum Dum from New York.
We also found huge door posts from the Palace of Xerxes. How many feet can you count on the statue?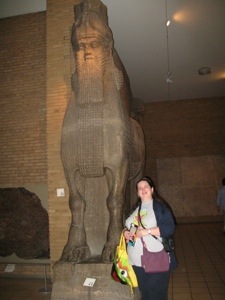 Here are some of the other objects in the Museum but there is so much to see that Miss Hannaford will have to come back on another day.
To top the day off, another thing London is famous for is the red double decker buses. Miss Hannaford and I decided to use the bus to go back to the hotel and we got to sit right at the very front of the bus and we took this photo.
It was a great, historical day and lets see what adventure we will go on tomorrow- Lucy