Day 34, October 26, 2023
The first part of today was to travel by Amtrak train from Baltimore Penn Station to New York. The trip took two and half hours including a stop in the big city of Philidelphia. Once we arrived in New York, we had a 20 minute walk with our luggage from the Moynihan Train Hall to our hotel near Times Square.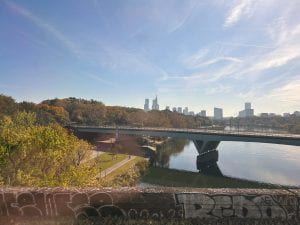 We had a late lunch in our hotel room before Katherine headed to the Westside Theatre to see her puppetry teacher perform in the musical Little Shop of Horrors as Audrey 2 (Pods 1 and 4). The puppets were built by Monkey Boys Productions. Katherine was really excited to see her puppetry teacher again as they had not seen each other for many years.
Here is an example of Pod 2
and Pod 3 of Audrey 2
How the puppetry of Pod 3 works
How the puppetry of Pod 4 works
Georgina Monster