Once again, Miss Hannaford and I are off on another Puppet adventure. This time it is a three week puppet adventure through the United States of America. Miss Hannaford won the UNIMA Australia Lorrie Gardner Scholarship to study puppetry at Beyond the Sock Workshop in Texas, but both of us are taking the opportunity to visit new puppet places either side of the workshop.
Day 1: Monday May 30, 2016
Our first stop on this adventure is Chicago a major city of state of Illinois in USA. To get there, it took two plane flights- 13 hours from Sydney to Los Angeles, then we had to change planes to catch another 4 hour flight from Los Angeles to Chicago. Chicago has a wonderful train system so we caught the train from O'Hare airport into the city because the station we got off at was not very far from the hotel.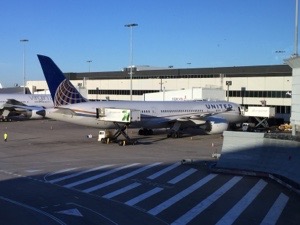 When we arrived in Chicago, the city was very quiet because it was Memorial Day. Memorial Day is a public holiday and very similar to the Australian ANZAC Day where Americans honour the memory of those who died serving in the military.
Miss Hannaford was very tired after the long 24+ journey from Sydney, so we both had an early night.
Day 2: Tuesday May 31, 2016
The reason why Miss Hannaford and I travelled to Chicago was to meet up with a young American puppeteer and puppet maker Connor Asher. Connor owns and runs his own creature creation studio called Creventive and so when we arrived at his studio, we were given a tour of all the different puppets, creatures, molds and equipment Connor has. Connor is a special effects artist and he uses materials like foam latex, resin as well as the foam similar to what Miss Hannaford uses to make movie creatures as well as puppets. He is also a professional puppeteer and so he had invited Miss Hannaford to come and practice her puppetry skills with him. I even got to meet, sing and dance with Connor's main character Jeremy J Giggles!
Connor asked Miss Hannaford to collaborate and build a puppet with him. Since we only had one day at the studio, it was decided to keep the design of the puppet really simple and on his ideas wall, Connor had a picture of some musical note puppets someone had made and that he had always wanted to try. Miss Hannaford showed Connor how she makes puppets as her method is different to how he makes puppets. The musical note puppets were made using the Project Puppet Roly puppet head pattern and the stem of the note was designed by Connor and made in L200 foam.
Miss Hannaford wants to experiment more with the shape of the musical note puppets to try and make their heads rounder especially under the chin but it was really fun to work together on creating a character so quickly!
Towards the end of the night, Connor had a surprise for Miss Hannaford. He owns replica puppets of Kermit the Frog and Fozzie Bear from the Muppets! My new puppet friend Molly who is travelling with Miss Hannaford and I, even got to sing with Kermit! Miss Hannaford was so excited to actually get her picture taken with these replica puppets!
https://m.youtube.com/watch?feature=youtu.be&v=zSet3nVCQDA
Can't wait to get started on Day 3!
Lucy and Miss Hannaford