We have arrived at Walt Disney World in Orlando Florida! Miss Hannaford came here as a young girl 20 years ago, but it is my first visit so the staff at the hotel gave me a first visit badge and Miss Hannaford received a I'm Celebrating badge as she is celebrating following her dreams around the world. The badges get you special attention from the Disney World cast as you go around all the parks.
The first place Miss Hannaford wanted to go to was Disney Hollywood Studios because 2 things really important to her were there- Muppet Vision 3D and Jim Henson and Kermit the Frog had left their handprints in concrete in front of Mann's Chinese Theatre replica known as 'The Great Movie Ride'. I am a distant relation of Kermit the Frog and since he is famous, I wanted to see Kermit's handprints too. One of the cast members helped take a picture of us putting our hands on top of Jim Henson's hands.

Here is a recording Miss Hannaford made of the Great Movie Ride!

Miss Hannaford told me that when she visited Disney Hollywood Studios as a child, she saw an amazing show called Indiana Jones stunt spectacular- and to her surprise- it is still here!

We then walked around the corner and down the street from the Indiana Jones attraction to somewhere Miss Hannaford has always wanted to go- the Muppetvision 3D attraction! To her, it is like walking into the Muppet Show theatre and you wear special 3D glasses to see all the muppets come out of the screen! Next door to the theatre is the Muppet store so Miss Hannaford bought lots of Muppet things for her collection. For me, I got to see lots of my famous friends and family many of whom look very much like me! Unfortunately they were too busy for me to go up and talk to them but it was really nice to know that I know lots of famous people, dogs, frogs, pigs, chickens and whatevers!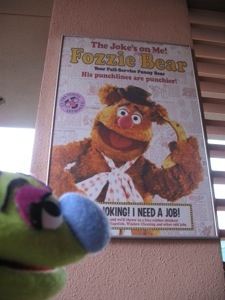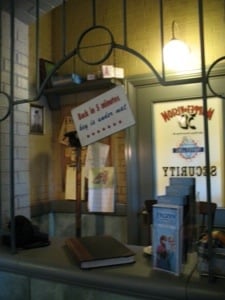 Right outside Muppet Vision 3D is the muppet fountain!

Lucy