Day 3: Wednesday June 1, 2016
Today Miss Hannaford and I explored a few of the great sites of Chicago!
First place we visited was the Harold Washington Library which is an amazing public library. On the ground floor, is a space called Youmedia which is a space for teenagers to be creative with all the resources they need including computers, music equipment and 3D printers.

On the 3rd floor of the building is the Makerlab which has 3D printers, lazer cutter, cnc routers, vinyl cutters. Anyone is allowed to go in there and make anything they want or learn how to use the technology. Unfortunately, while Miss Hannaford and I were there, the workshop was closed but there were a few of the objects made in the lab on display in a case outside the doors.
One of the big differences between American Libraries and Australian libraries is that the books are organised by the Library of Congress classification system instead of the Dewey Decimal system. The Library of Congress system is very different in that all spine labels start with a 2 letter code. For example books on Puppetry start with the classification PN which refers to Language and Literature- General Miss Hannaford found that there were 3 shelves of books on Puppetry and anyone is allowed to take books from the shelf to read at the reading tables.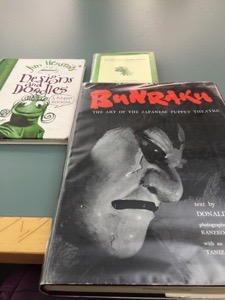 After visiting the library, Miss Hannaford and I went to find a Lego store. There are currently no Lego stores in Australia, and since Miss Hannaford loves playing with Lego- it was a wonderful, fun place to visit. The shop even has trays of Lego out for people to play with.
Next door to the Lego Store building is one of the tallest buildings in Chicago- the John Hancock Tower. The building is 100 stories tall and has an observation platform at the top which has great views of the city and Lake Michigan. Miss Hannaford and I spent a lovely hour at the top taking photos of the city just like we did in New York in 2014.
Day 4: Thursday 2nd June 2014
Today Miss Hannaford and I flew from Chicago to Atlanta Georgia. The trip took all day and fortunately Miss Hannaford used the airline app on her phone because the gate for the plane at Chicago airport changed four times and our bags arrived in Atlanta before we did. The app let us know each time circumstances changed so we weren't too anxious.