Day 12: Wednesday, June 7th, 2017.
Today is the first full day of performing and building for Miss Hannaford. In performance class with Peter Linz and Noel MacNeal, Miss Hannaford worked on revising the important fundamentals of television puppetry including:
Lip sync- making the puppet look like it is talking.
Focusing the eyes of the puppet on camera so that it is looking at the audience.
Utilising the puppeteer's hand's full range of motion to achieve a full range of emotion.
Tilting the puppet's mouthplate so that the puppet can look at other characters or places.
Learning to create the illusion of a puppet walking in and out of the camera's frame.
Miss Hannaford got very excited when after she practised with my travelling companion Molly, the puppet walking exercise in front of her teachers, and one of them said "perfect"! It was the first time in two years of learning puppetry for television and film that she had gotten that kind of feedback. Miss Hannaford has been practising at home and at school a lot, hoping that one day she would hear from her teachers that she is improving.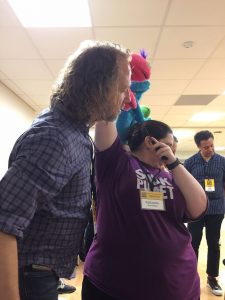 My new puppet friend Yoop, who we made last week in New York, was picked up by Miss Hannaford's teachers as an example of a sock puppet with a flexible mouth!
Towards the end of the lesson, the students got to play a really fun game of moving the puppets as a group around the frame without tripping over each other as puppeteers. The rules were that the puppets were not allowed to touch the edges of the tv frame and when freeze was called, the puppet had to look directly at the camera.
After lunch, Miss Hannaford's group moved to the puppet building room to start construction of her pirate. The first step was to open the boxes of supplies and start cutting out the materials.
Miss Hannaford's puppet building teacher, Pasha Romanowski demonstrating how to insert the puppet's mouthplate.
By the end of the day, Miss Hannaford had the entire body and head of the puppet's skeleton assembled.
After class, many of the students had dinner together at the steak house restaurant next to the hotel.
It was a really fun day!
Lucy and Miss H