Day 12: Wednesday 9th July
Today was our last day in the Disney Parks. Miss Hannaford wanted to go back to Hollywood studios one more time since this is her favourite theme park and we didn't have a great deal of time to explore it completely 3 days ago. We started in the animation courtyard as you can still see Disney animators hand colouring animation cells in the traditional method using paint and a brush. In the same buildng, Miss Hannaford discovered that we could meet Mickey, Minnie, Ralph and Vanellope. So we had more pictures taken and Minnie Mouse thought I was really cute!
While we were in the animation courtyard, Miss Hannaford and I went into the One Man's Dream attraction about the creation of Walt Disney World and the cast members who were supervising the attraction really liked me! While Miss Hannaford was looking at the objects on display, the cast members who met us at the front door, came up to Miss Hannaford and I and gave us a very special present! Honorary Citizenship of Walt Disney World! We were given special badges which got us a lot of attention for the rest of the day throughout the park!

Next stop of the day was an attraction called the back lot tour. Disney's Hollywood Studios used to be a working tv and movie studio called a 'lot' but now all the sound stages where the movies were made have been turned into attractions so the Backlot Tour is not of a working backlot anymore. We did get to experience some big special effects that are used in movies and at the end of the tour was a special exhibition of costumes and props from movies like Batman, Indiana Jones and Miss Hannaford was really excited to see the some of the original puppets used in the movie the sound of music!

When we left the special exhibition- look who we met next door! Mike really liked my skin colour and Sully gave Miss Hannaford a really big hug!
We got to have lunch at Pizza Planet from Toy Story 2- and yes it looks just the same! After lunch we headed over to the Star Tours attraction were we got to watch some young students learn to use lightsabers from Star Wars and even fight Darth Vader!
After watching the students at the Jedi Training Academy, Miss Hannaford took me over to an area called Sunset Boulevard so we could go and see Beauty and the Beast on stage! It wasn't the animation- it had real people singing all the songs as well as all the kitchen characters such as the clock, the candlestick and Chip the teacup!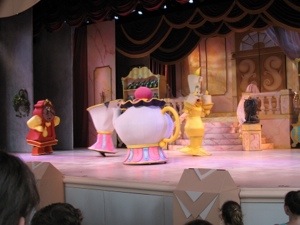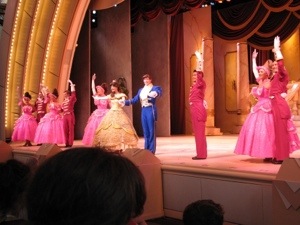 After Beauty and the Beast, Miss Hannaford and I had to wait very patiently for 2.5 hours in line to see the amazing nighttime fireworks spectacular called Fantasmic! Since we waited patiently, we were allowed to choose where we wanted to sit so we sat in the perfect place to see all the amazing fireworks, the water that splashed towards the really big audience as well as all the amazing puppets that they used in some of the big sequences. Miss Hannaford was really impressed although I found the bits with the Disney Villians a bit scary!
http://youtu.be/6_gl4hN2GIk
Having so much fun- Lucy