Day 50: Saturday 16th August
Today Miss Hannaford and I travelled by train to Warner Bros Film Studios in Leavesden where all of the Harry Potter films were made. From the train station you travel on special Harry Potter double decker buses that look similar to the purple Knight Bus and when you get off the bus, the first thing from the film you see are the giant chess pieces from the first film!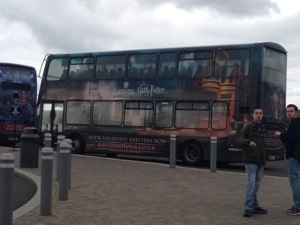 Something you need to know is that the buildings (called Stages) that you see in the pictures are not the sound stages used for shooting the eight films. The Warner Bros studio is still a fully function film studio and so new buildings have been built and the sets, costumes and props have been moved here. When we walked into J Stage- you have to line up so you get to see all the great photos on the wall as well as one of the flying Ford Anglia cars used in the second film!
After a short film- they reveal the spectacular doors to the Great Hall which then people are invited to push open to reveal the real Great Hall (minus the magical ceiling)!
You get to see lots of props, sets and costumes from every film throughout Stage J. I really liked the Griffyndor Common Room, Dumbledore's Office and the area where you get to see broom sticks being made by the actual people who made all the broomsticks for the films!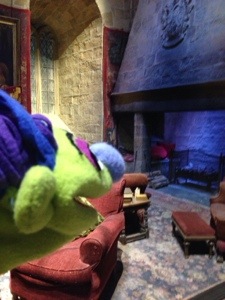 The next set we got to see was the kitchen of The Burrow where you can see self chopping knifes, pans that was themselves and knitting needles doing their own knitting!

The last thing you see before you leave Studio J are some of the sets from the Ministry of Magic for films 5,6,7. Only some of them are here because they are enormous! They go from the floor to the ceiling which is 5 storeys high!
When you leave Studio J, you walk into the outdoor backlot area where you can see 4 Privet Drive, the actual Knight Bus, the wonky Hogwarts Bridge and more of the chess pieces!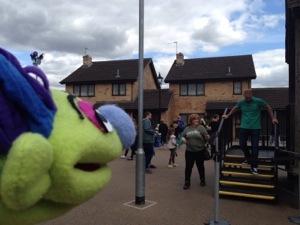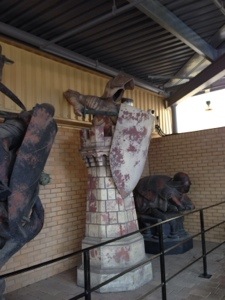 The next studio is Studio K and you start by seeing all the amazing makeup and animatronic creatures including Buckbeak the Hippogriff, Mandrakes, Monster Book of Monsters. You can see them in this video.

The next space you walk into is the actual set of Diagon Alley! This space is different from the Diagon Alley we experienced in Orlando, Florida USA. Here you are not allowed to go into the shops like Ollivanders or Flourish & Blotts but it is nice to compare the two versions of the Alley and how accurate the Florida attraction really is!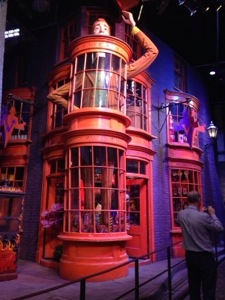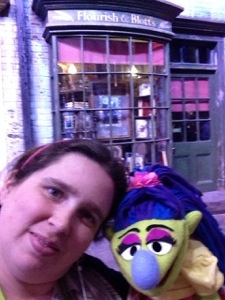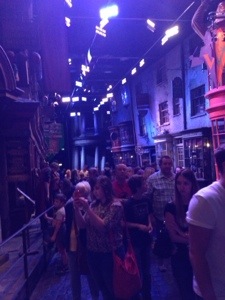 The last room is a room full of wandboxes that looks like Ollivander's wand shop. Each box has the name of someone who worked on the films either behind the camera or in front of the camera.

It was a really exciting day and we had so much fun!
– Lucy