Day 60: Tuesday 26th August
Miss Hannaford kept working on her research at the Wedgwood archive today. She discovered some really interesting secrets of how different ceramic companies used to make moulds of antique vases and then make clay copies of those vases. It means that the early ceramic companies like Wedgwood copied vases using moulding and casting almost like they used a photocopier to make exact copies.
Day 61: Wednesday 27th August
Today Miss Hannaford was still researching in the Wedgwood archive but when she took a break, we went to the 'have a go studio' and the staff there had prepared a special surprise for her. She was given the opportunity to put an Egyptian decoration on a Wedgwood pot! The pot will be later fired in the kiln and sent to Miss Hannaford in the mail.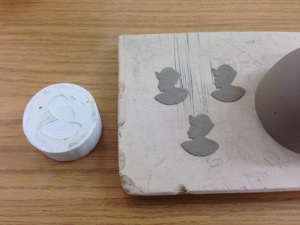 When Miss Hannaford finished making her pot, we were given the opportunity to watch one of the Wedgwood craftsmen use a lathe to carve chopstick rests out of a rod of clay.

Day 62: Thursday 28th August
Today was Miss Hannaford's last day at the Wedgwood Museum. She was given the very rare privilege of seeing behind the scenes at the museum at some of the oldest and rarest pieces of Wedgwood including several pieces that were early experiments for the pieces Miss Hannaford now has in her collection.
After the tour, Miss Hannaford had the opportunity to try another kind of Wedgwood decorating- using transfer pictures printed on a special plastic that will stick onto the pottery when it is fired in the kiln. All dinner plates and cups that have the exactly the same picture on them are decorated using this special plastic. Here is a picture of the old way the image was put onto plates before the invention of the plastic. The paper backing would be soaked off once the picture was on the plate.
Here is the Elephant Miss Hannaford decorated- the colours will change a bit once it is fired in the kiln and the yellow plastic burns away.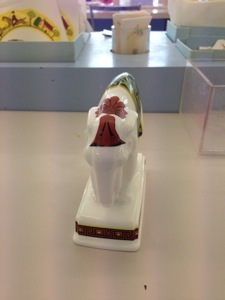 Miss Hannaford has learnt so much at the Wedgwood Museum archive that it is going to take some time to sort all the details out before she can finish her writing and research for her book.