Day 63: Friday 29th August
Today is our last day in Stoke on Trent in the Midlands of England. We spent the day getting ready for travelling to Europe and I spent some of the day catching up on the blog posts. Miss Hannaford is really going to miss Stoke on Trent- she has made so many fantastic discoveries at the museum but we are both looking forward to new adventures in Europe and we are also starting to look forward to returning home.
Day 64: Saturday 30th August
Today Miss Hannaford and I travelled by train back to London for the last time on this trip. We are only in London for 1 night before we fly to Venice tomorrow. Since we had one last afternoon in London, Miss Hannaford and I went to visit the sights we hadn't quite gotten to yet. The first place we visited was Cleopatra's Needle, a real sandstone Egyptian obelisk from Egypt. The obelisk is flanked by 2 big bronze sphinxes and all the park benches either side of the obelisk also have female sphinxes on the ends of each bench.
After visiting Cleopatra's Needle our next stop was Paddington Station. This is another place Miss Hannaford has always wanted to visit since she was a child because another of her favourite story books and also one of her favourite children's tv programs as a little girl was The Adventures of Paddington Bear. Paddington Bear got his name because he was found at Paddington Station wearing a hat and dufflecoat which had the label- "Please look after this bear- Thankyou." Miss Hannaford's first ever glove puppet of Paddington Bear came from Paddington Station- she was age 6 and she still has that puppet!
So I had my photo with Paddington Bear in the Paddington Bear shop.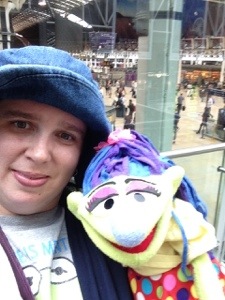 Our next and last activity here in the United Kingdom was to go and visit the Sherlock Holmes Museum at 221B Baker Street. Sherlock Holmes is a fictious famous detective who with his friend Dr Watson would solve crimes in Victorian England using science, logic and the famous phrase- "it's elementary my dear..(name)…..". This museum has been created to match the home of Sherlock Holmes exactly as it is described in the books by Arthur Conan Doyle. Miss Hannaford's favourite story is the Hound of the Baskervilles but she prefers the movies made from the stories starring Basil Rathbone as she grew up watching them with her mother every Sunday afternoon when she was a small child.
Miss Hannaford and I have both really enjoyed our visit to the United Kingdom and our next stop is Italy!
– Lucy