Day 84: Friday 19th September
It is hard to believe that we only have 4 days left of this really big adventure! Today we had the opportunity to visit the workshop of a well known Czech puppet maker and he allowed us to make our own Czech puppet while he worked on some other puppets! His name is Pavel Truhlar and he owns the shop that we visited yesterday and made the robot Miss Hannaford bought. This is what his work bench looks like:
Our puppet making started with a sketch of the puppet we were going to make. Miss Hannaford wanted to make Kaspar the Jester- the central character of Czech puppetry.
The next step was to draw the face of the character onto the wooden head and colour it in using watercolour pencils and regular colouring pencils. We decided to make Kaspar a friendly character who like to smile and be silly when it is appropriate.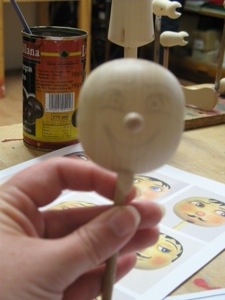 The next stage was to paint the body. Pavel showed us how you can use a drill to help paint neat stripes around the legs to make it look like the puppet has stripy socks!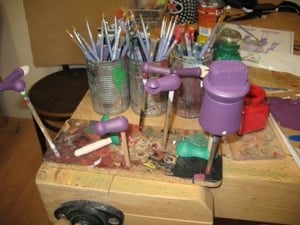 The final step was to assemble the puppet, put his clothes and bells on and put strings from the hands and legs up to the control rods! He looks fanastic! It took Miss Hannaford 3.5 hours to design, paint and assemble this puppet.
After a short rest at our hotel, it was time to go back to the National Puppet theatre to see their long running, famous production of the Italian Opera Don Giovanni.
The performance opens with the puppet of Mozart 'walking' up to the orchestra conductors position in the orchestra pit. The difference between this puppet and all other Czech puppets is that it is operated from below using rods and levers.
Here is what part of the opera looks like- only one of the puppet's mouths move using a trigger on the handle:
As we left the theatre we had the opportunity to see up close one of the older versions of the actual Don Giovanni character. This version of the puppet is no longer used in the production because some of its joints had been repaired so many times that it was not possible to repair it any more. In puppetry, exact replica puppets are often made to replace puppets that are damaged beyond repair after many years of use.
It was a really interesting and fun puppet day!
– Lucy