Day 75: Wednesday 10th November
Today was the big train journey from Rome, Italy to Charleville Meziere, France.
[map id="7″]
We left the hotel at 5am because the train left Rome at 6am so it is important that you get to the station with plenty of time so you can check which platform you have to get to and get your luggage onto the train.
It was then a 4 hour train trip to Torino (Turin) where we changed trains for the TGV to Paris! The trip to Paris was eight hours long and the scenery was wonderful with really big mountains!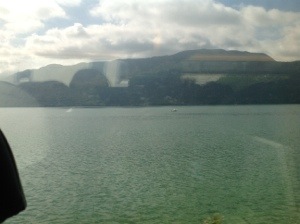 Once we got to Paris, not only did we have to change trains but we also had to change stations too! Fortunately Miss Hannaford arranged for a taxi to meet us as we got off the train to drive us and the luggage across Paris to other station so that we arrived with plenty of time for our train.
The next stop was less than an hour away at Reims but we only had a few minutes to change trains at Reims to get the train to Charleville Meziere.
It was a very long but interesting day. Travelling from Rome to Charleville Meziere took the same amount of time that flying by plane from Sydney to Los Angles did at the start of this huge adventure!
– Lucy