Day 5
Wednesday, May 31st 2017.
Today Miss Hannaford and I flew from New York to Chicago. We left the hotel at 7am and our flight left Newark airport at 11am. It took 2.5 hours to fly to Chicago. Once we got to our hotel, we were both very tired after our long day yesterday, so we had an afternoon rest until dinner time.
Day 6
Thursday, June 1st 2017.
Today we went on a tour of the home and studio of famous architect, Frank Lloyd Wright as well as a walking tour of Frank Lloyd Wright designed buildings in the local suburb of Oak Park. Frank Lloyd Wright was born in 1867 and is famous for innovative use of materials, spaces and interior decorations. When a client commissioned Frank Lloyd Wright to design a home, Wright designed not only the house, but the art glass windows, skylights, furniture and wall decorations. The client only needed their clothes and tooth brush to move in. The first Frank Lloyd Wright building we ever visited was the Guggenheim Museum in New York back in 2014.
There is a connection between Frank Lloyd Wright and Australia. Two of Wright's architectural employees were Walter Burley Griffin and Marion Mahony who together won the competition to design Canberra- the national capital of Australia.
The whole tour of the home, studio and the buildings in the rest of the suburb took 3 hours.
Outside the entrance to Frank Lloyd Wright's home.

The Dining Room- Wright designed the chairs, table, art glass ceiling panel and the art glass window pattern.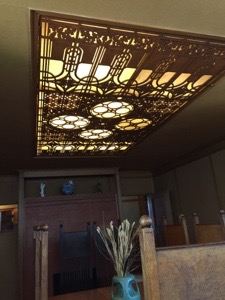 The children's playroom on the top floor of the house- with Egyptian/ Aztec influence mural on the wall.
Wright's drafting studio for his employees- taken from the upper gallery level.

Wright's Conference room known as "The Library" where he would show his designs to his clients.
Then we started on the walking tour to visit the other Wright designed buildings in the neighbourhood.
Foreground Moore- Dugal House and (Background) The Hills- DeCaro House
Arthur B Heurtley House (1902)
This house was initially designed by Frank Lloyd Wright, but because he went overseas before it's completion, the house was completed by Marion Mahony, the wife of Walter Burley Griffin.
After the tour around Oak Park, Miss Hannaford and I visited our friend Connor Asher who is a Chicago based puppet builder. He invited us to visit his new workshop and assist with building a monster body puppet he has been working on for the last few weeks. Miss Hannaford provided assistance with solving problems with the arms and helping the puppeteer to see out of the mouth of the puppet.